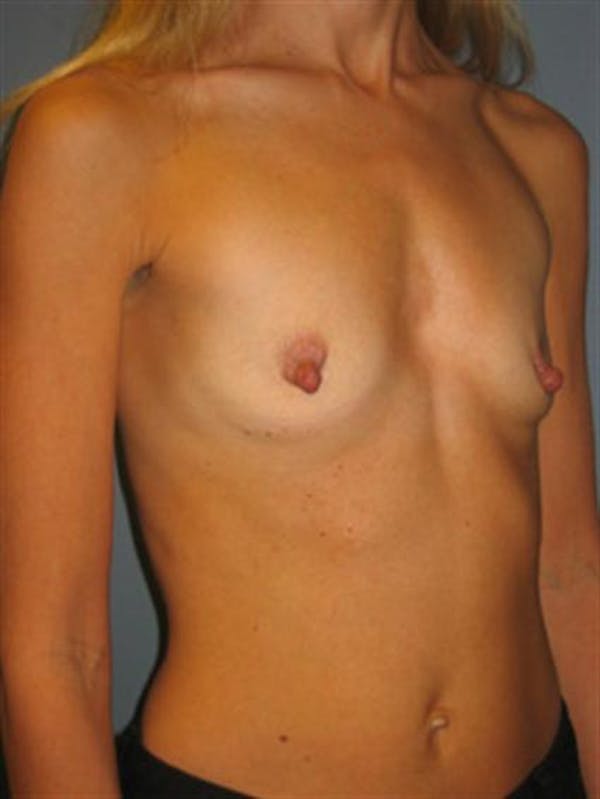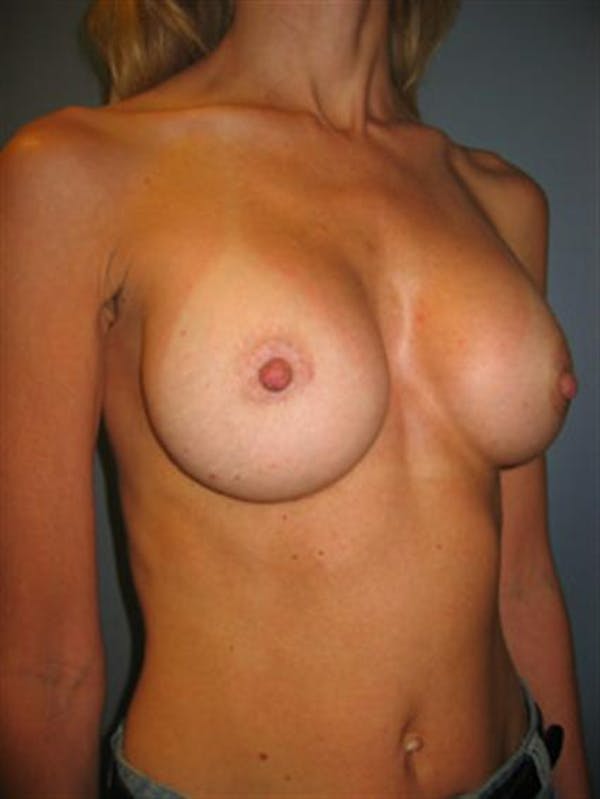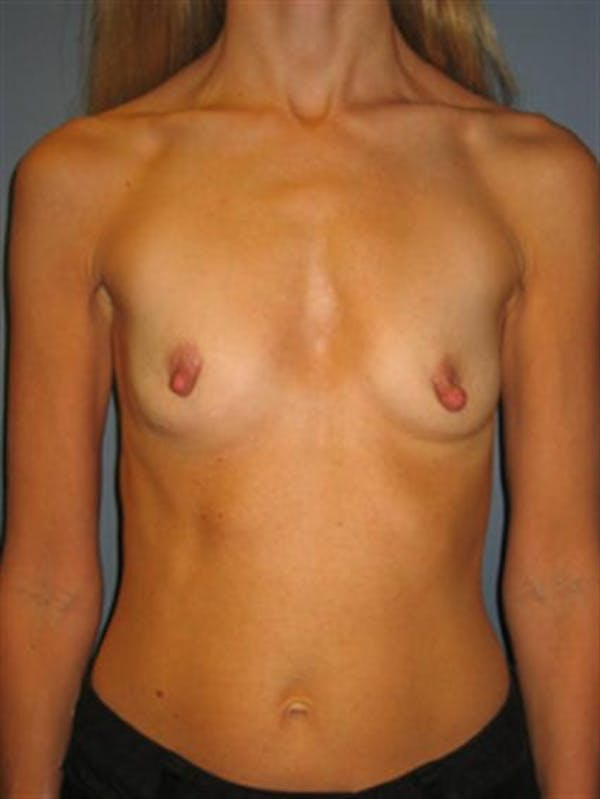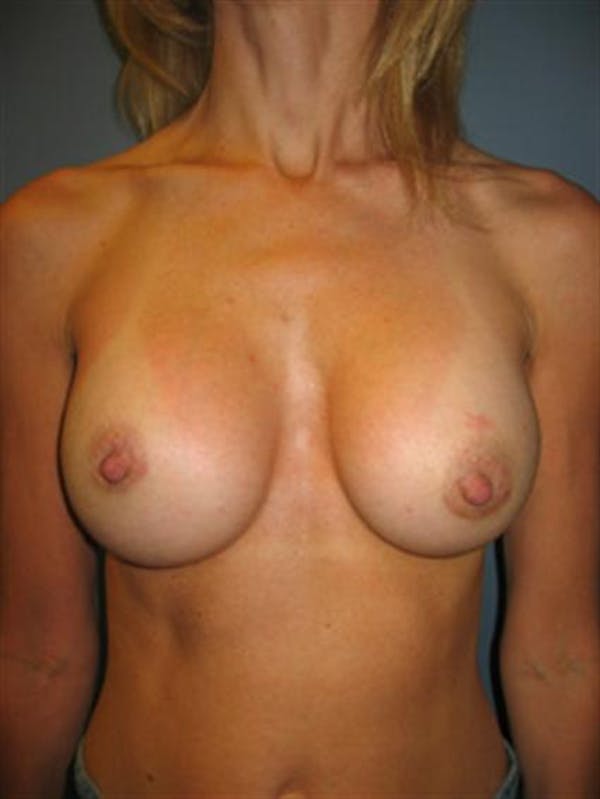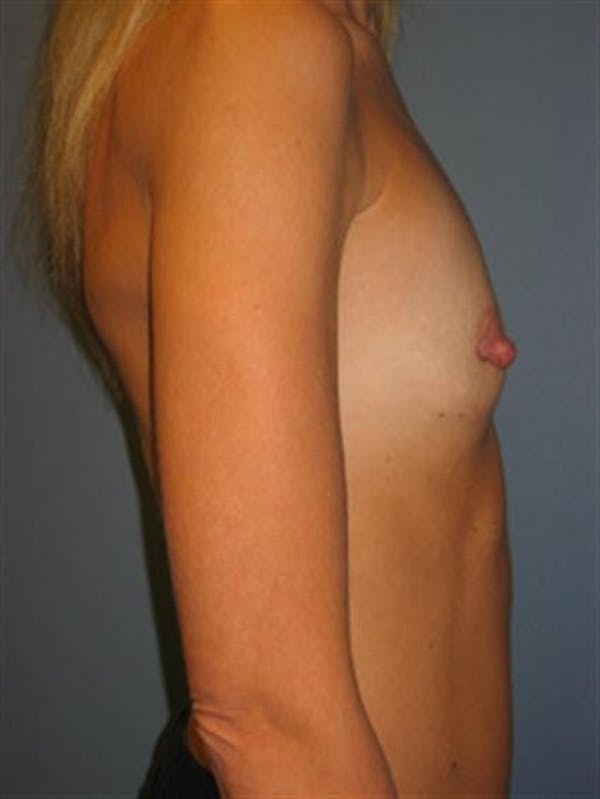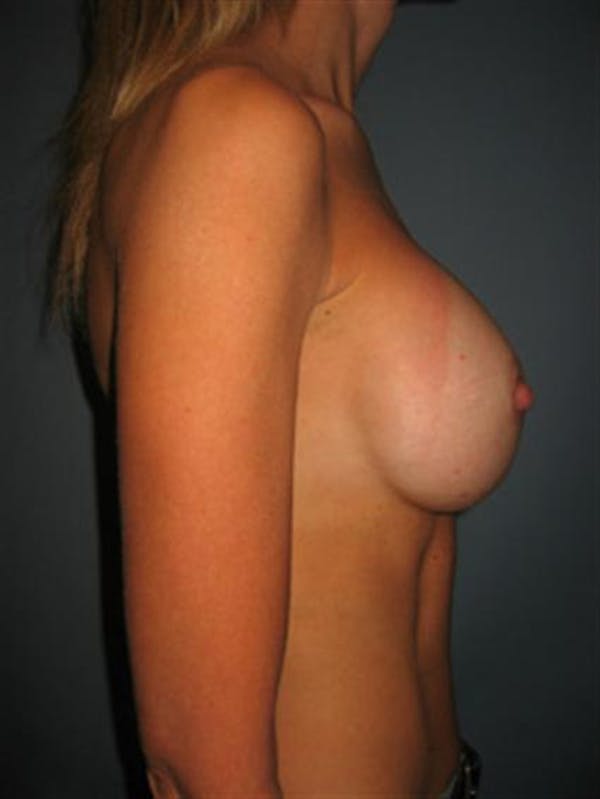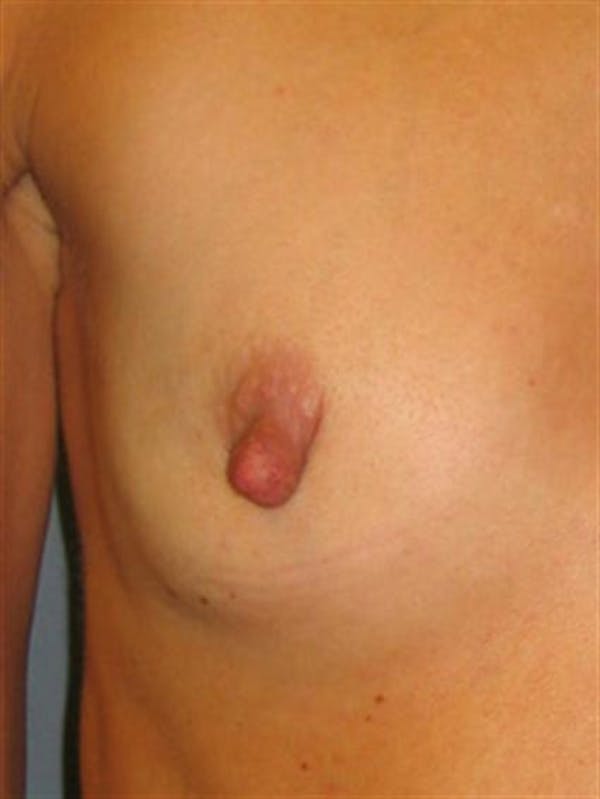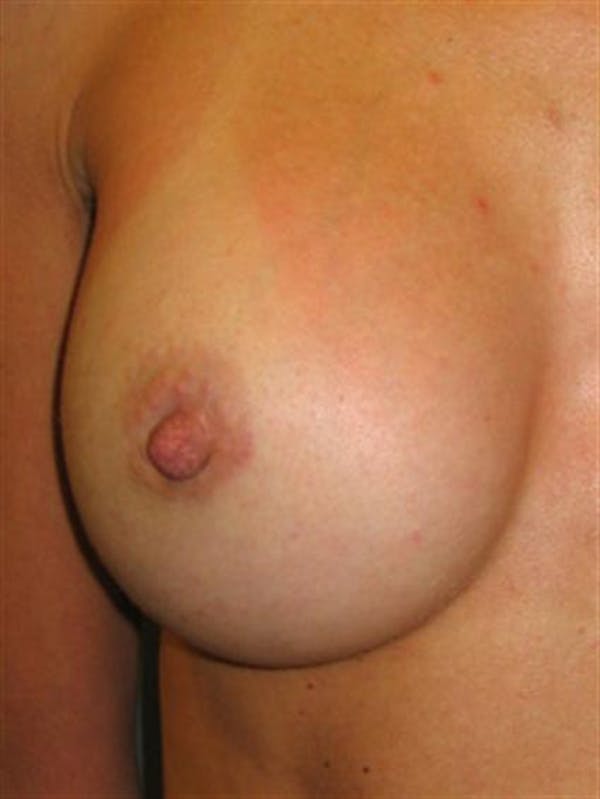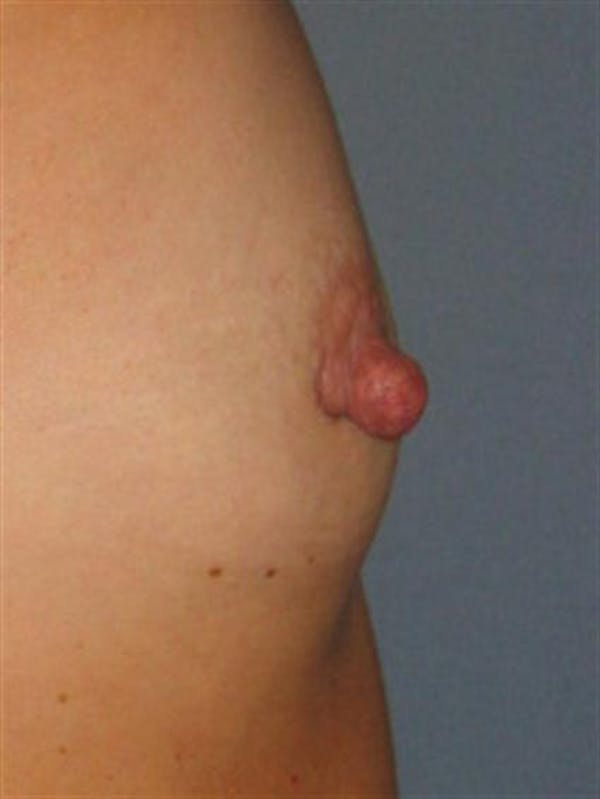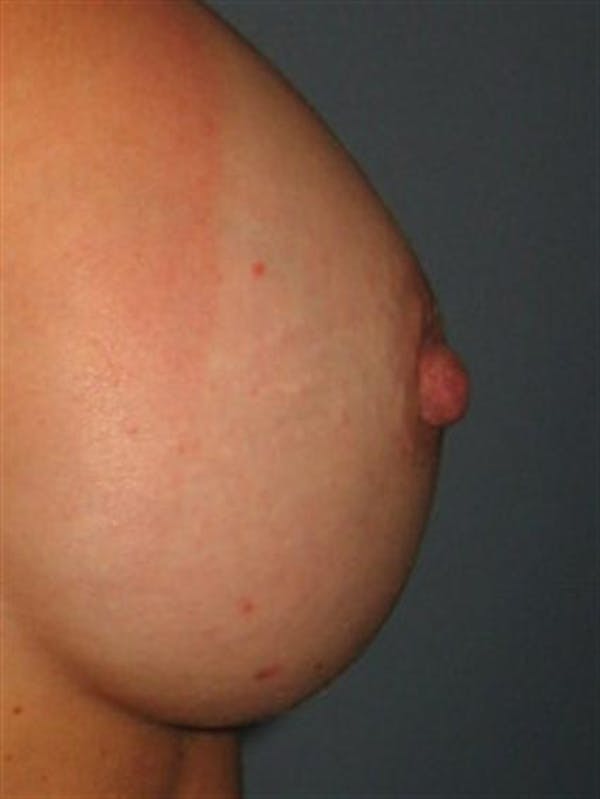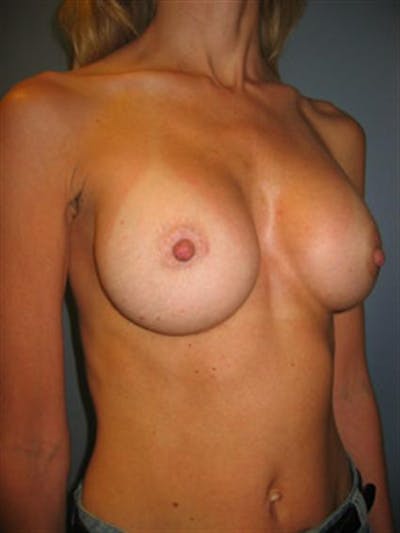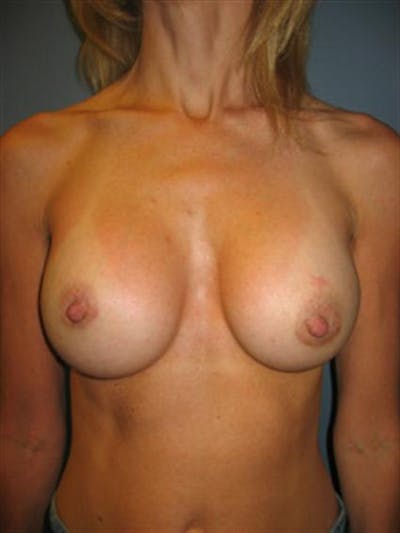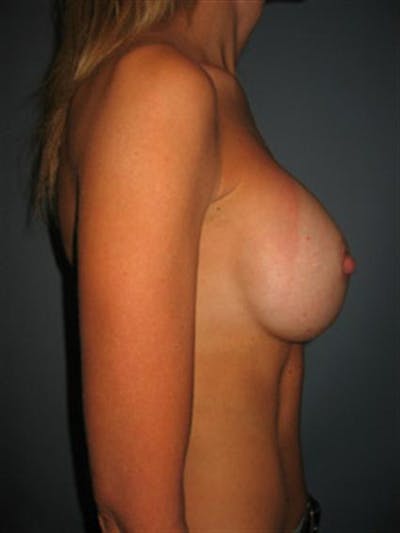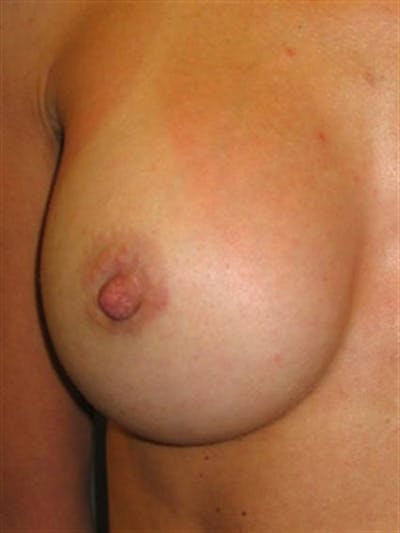 This is a 36 year old mother of two (and wife of a surgeon) who came to my practice with complaints of underdeveloped breasts and drooping nipples. The patient had always been disproportionately small chested, and felt self-conscious in bathing suits and clothes which were tight-fitting. In addition to her displeasure with her breast size, she had also noted significant stretching and distortion of her nipples after breast feeding.
Since this patient wanted to go from an A cup to a large C cup, I recommended a breast augmentation with implants in the mid-300cc range. I also recommended a periareolar (underneath the areola) incision and placement of the implant under the pectoralis muscles for the most natural and aesthetic result. I explained to this patient that the pre-surgical asymmetry of her areola positions would not be changed without removal of some skin to shift the position of the areolas. She didn't mind her asymmetry, so I did not address this with the surgery.
I also recommended a nipple reduction to reverse the damage and stretching done to her nipples from breast feeding. This procedure simply removes a "doughnut" of surface skin at the base of the nipple, allowing me to shorten the overall length. This procedure does NOT cut the milk ducts, and it does NOT involve cutting off the end of the nipple. By simply removing some excess skin, the nipple shape and appearance is improved without significantly affecting breast feeding or sensation.
I performed a periareolar, submuscular (under the muscle) placement of Mentor smooth, round, moderate profile saline breast implants filled to 340cc on each side. After the implants were in place, a small ring of excess surface skin was removed from each nipple base, allowing them to be shortened by 1.5 centimeters.
The patient was extremely happy with her breast augmentation results, and reports that she is now able to wear many outfits she used to avoid due to embarrassment regarding her breasts.
Provider: Dr. Cohen