Achieve your ideal breasts
Beverly Hills plastic surgeon Dr. Robert Cohen performs a wide range of revision procedures designed to repair implant problems caused by previous breast augmentation surgeries. Some clients want to exchange their implants for a different size or type, and some have scars or other complications that they would like to be addressed.
For many of Dr. Cohen's patients, the outcomes after a breast revision in Beverly Hills are life-changing. When compromised breasts are transformed back into aesthetically pleasing breasts, it's extremely satisfying for both doctor and patient.
Dr. Cohen will be very happy to meet with you to discuss your options for achieving the most ideal breasts possible. Request a consultation online for your breast revision in Beverly Hills, or call to schedule an appointment.
What is a breast revision?
Every woman has certain goals for her breast surgery, and each expects to be happy with her results. Unfortunately, things don't always go as planned. Many clients have come to see Dr. Cohen for a complex breast revision in Beverly Hills after getting an unsatisfactory outcome with another surgeon. Common complaints include:
Visible wrinkling and rippling
An implant that has shifted into an unsightly position
Excess scarring/capsular contracture
Sagging, asymmetry, or other visible irregularities
Breast revision can correct these imperfections, restoring comfort and quality of life. Dr. Cohen works with each patient to develop a surgical plan that addresses her unique problems and concerns. He spends a great deal of time discussing her specific goals, her unique physical characteristics, and any challenges that the surgery might pose.
Note that not every problem with breast augmentation is from a "botched" surgery. Breasts are a high-maintenance area of the body that can be affected significantly by gravity, pregnancies, loss of skin elasticity, and weight change. Biological processes like capsular contracture (scar tissue hardening) can also occur. Breast revision can help improve your appearance as well as your peace of mind.
Before & After Breast Revision in Beverly Hills
WARNING:
This feature contains nudity. Please click OK to confirm you are at least 18 years of age and are not offended by this material.
OK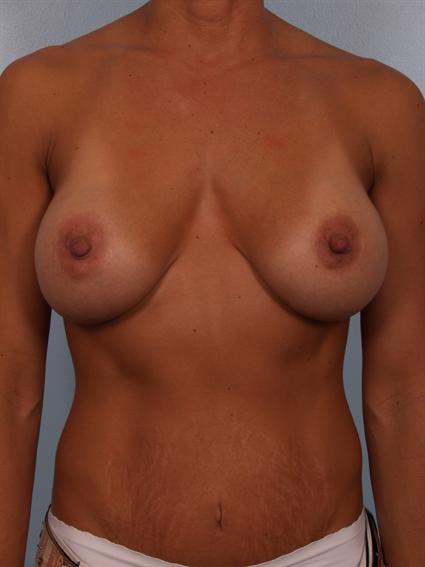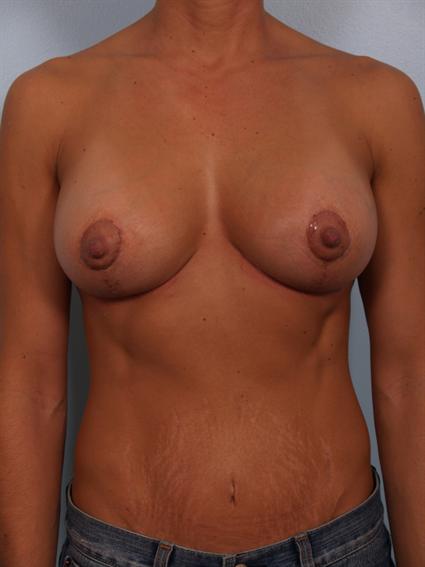 About this patient
This patient is a 40 year old female from Montana who flew in to my practice for a revision of her prior breast implants. The patient was very unhappy with the appearance of her breasts which were too large, too widely spaced, and excessively low on her chest. The implants also caused her...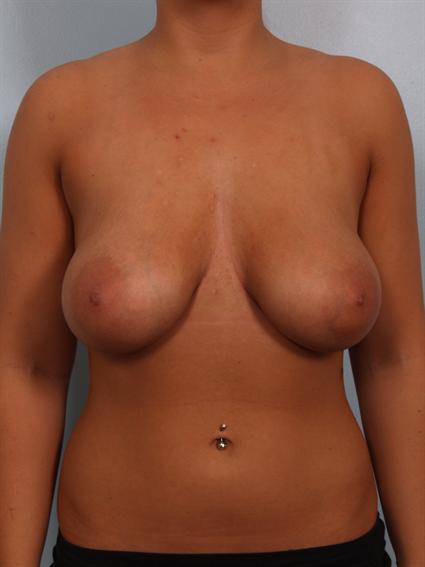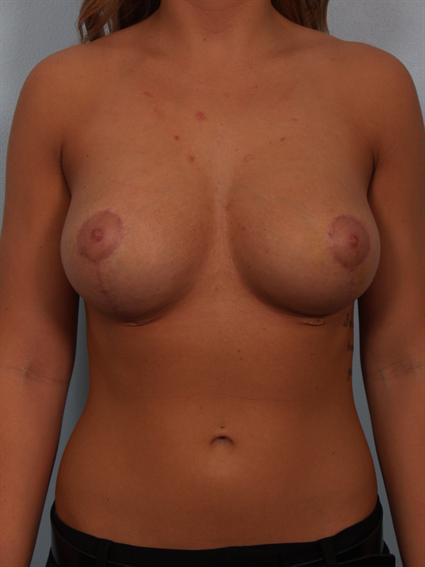 About this patient
This patient is a 24 year old female who presented to my practice with complaints of breasts that were unnatural in appearance. The patient had undergone prior breast augmentation with saline implants by another surgeon and wished to have a revision of her breasts to give her a perkier, rounder, and more natural look...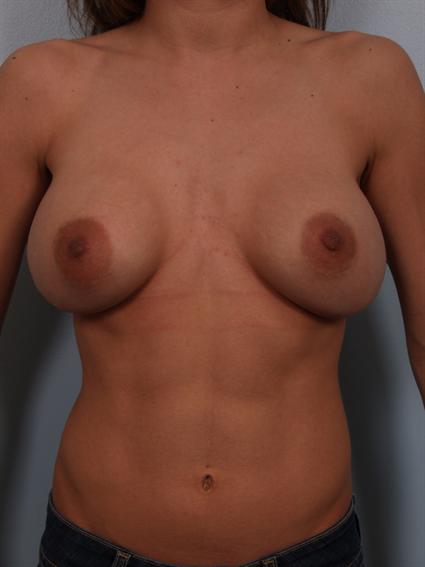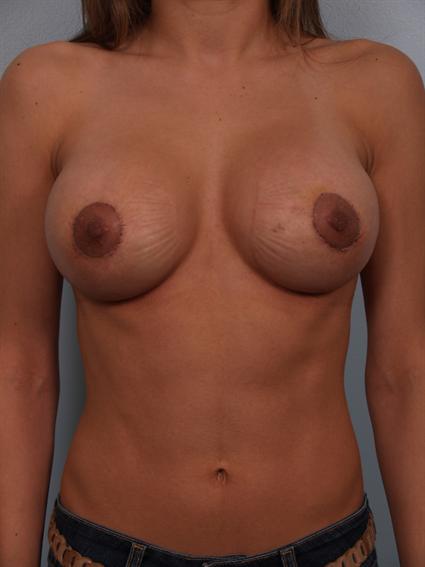 About this patient
This patient is a 29 year old female who presented to my medical practice with complaints of unnatural appearing breasts after prior breast augmentation by another surgeon. Specifically, she was unhappy with the wide spacing, lateral (outer breast) fullness, and rippling of the implant edges...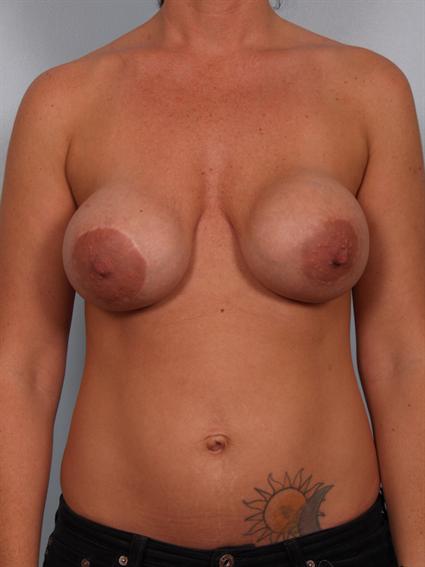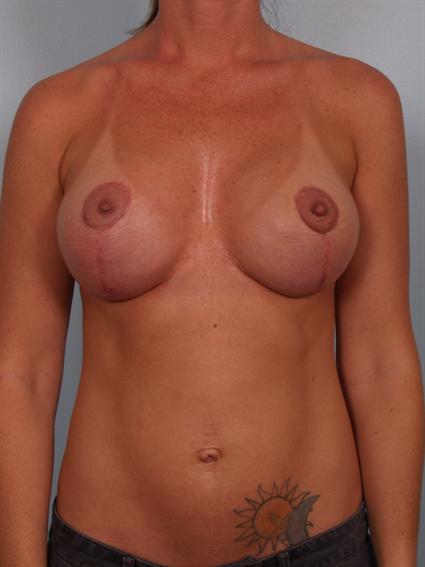 About this patient
This patient is a 33 year old female who presented to my practice with interest in revision breast surgery. This patient had undergone a previous breast augmentation 8 years ago by another surgeon where saline anatomical implants had been placed over her chest muscles...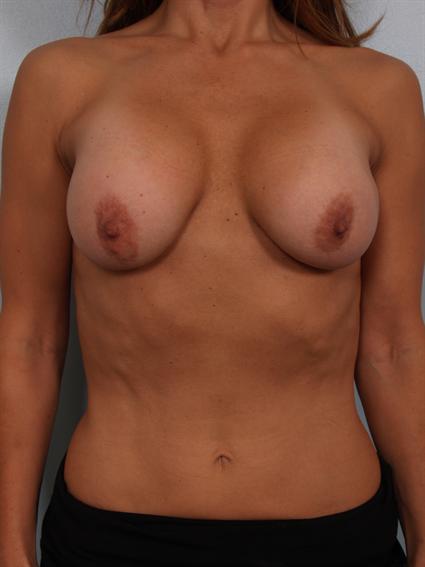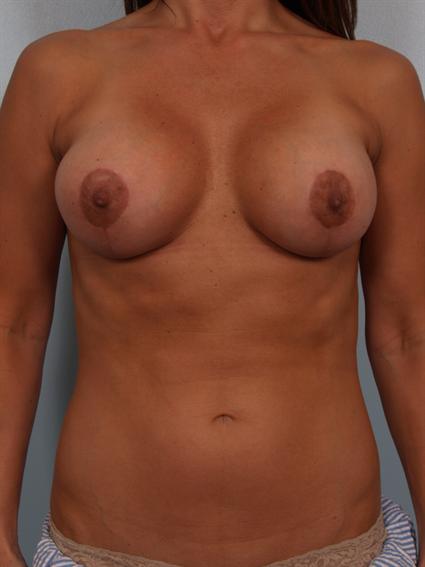 About this patient
This patient is a 43 year old female who presented to my practice with complaints about her breast shape and drooping. The patient had undergone prior breast augmentation by another surgeon and wished to have a revision of her breasts to give her a perkier, rounder, and more natural look....
View More
What techniques does Dr. Cohen use during a breast revision procedure?
Breast revision surgery requires many methods, as well as the latest technology and innovations. Revision techniques that Dr. Cohen frequently uses include:
Elective implant exchange from saline to silicone; in some cases, changing from smooth to textured implants or round to anatomical implants (or vice versa)
Internal pocket tightening
Scar capsule removal and/or release
Exchanging implants from over to under the chest muscles
Soft tissue reinforcement with support materials
Breast tissue removal
Breast lift surgery (mastopexy)
Fat grafting to correct any implant visibility
Explantation and complete capsulectomies with non-implant reconstruction
Because of the many different issues that can occur with breasts, each case is a unique problem to be solved. Many of the above-mentioned techniques can be combined in order to achieve the best possible result for the patient. Dr. Cohen will often change the placement of the implants from over the chest muscle to under the chest muscle, which requires tailoring and restructuring the breast pocket for optimal implant support and fit.
Other cases may involve thinned and stretched-out tissues, which are unlikely to support the implants properly over time. These issues may require the use of a soft tissue support matrix, such as Strattice or Galaform, which provide additional coverage and reinforcement.
Who is a good candidate for breast revision?
Anyone who is unhappy with how their implants look or feel will make a good candidate for a breast revision in Beverly Hills, provided they are a healthy non-smoker with realistic expectations. One of the most common reasons that women pursue breast revision is that they wish to address complications. These might appear as capsular contracture, double bubble, uniboob, rippling, rupture, or implant malposition.
Some women simply wish to return to a more natural look and choose to undergo a fat transfer breast revision instead of having implants. Dr. Cohen will meet with you in private to discuss your options for revision and will help to create a personalized plan to resolve your concerns.
What are the overall benefits of breast revision surgery?
Improved breast symmetry
Correction of complications such as capsular contracture
A more aesthetically pleasing chest appearance
Relief from discomfort
Enhanced peace of mind and self-image
A boost in self-confidence
Natural-looking outcome
What is breast revision with fat grafting?
Many women are interested in the modern trend of "less is more" and trade in their implants for a breast revision with fat transfer in Beverly Hills. Fat grafting provides highly natural results in both look and feel. During the process, fat is harvested from an area of the body where it is plentiful, such as the hips, belly, or thighs. The fat is then sterilized and purified before being injected into the breasts to effect a subtle increase in size.
Fat transfer breast augmentation has many advantages over traditional implant surgery. Firstly, the patient does not have to worry about complications down the road, such as capsular contracture, double bubble, or implant malposition. Secondly, the patient doesn't have to concern themselves with replacing the implants down the line should they rupture or ripple. Lastly, fat transfer has the added benefit of slimming the donor area by removing unwanted fat.
Fat grafting can also be used in tandem with implants to help achieve a more authentic appearance and camouflage the edges of the implants in women with thin skin and not enough breast tissue. Dr. Cohen will create a surgical plan for you utilizing fat grafting to achieve your best results and deliver an outcome that exceeds your expectations.
How is fat grafting performed?
During the procedure, fat is extracted from the donor areas using liposuction. A small incision is made through which the surgeon threads a cannula, or slender tube. The fat is then suctioned out and purified. There are different types of liposuction techniques, including laser lipo, ultrasound lipo, and tumescent lipo, that can be used to help speed up the process, reduce bruising, and minimize recovery time. Dr. Cohen will choose the best approach after performing a physical evaluation at your initial consultation.
After the fat is sterilized, it is then ready to be injected into the chest to create authentic-looking breast mounds. Dr. Cohen's eye for artistry and precision ensures that your final result from fat transfer breast revision in Beverly Hills is balanced, symmetrical, and aesthetically pleasing.
What are the benefits of fat transfer breast revision?
Safe augmentation approach with little risk of allergic reaction
Uses your body's own fat for a natural look and feel
Long-lasting results
Minimally-invasive
Shorter downtime than with implants
Slims and sculpts the donor region
No scarring
Who is a good candidate for a fat transfer procedure?
Healthy, both mentally and physically
No significant medical issues
Realistic, positive outlook towards treatment
Desires a subtle increase in the bust
Is in possession of adequate donor fat
Why is it so important to choose a highly trained breast surgeon?
To minimize the chance of problems occurring in the first place, it's very important for an individual to go to a highly-skilled and experienced surgeon that can offer the latest in techniques and technologies (such as the use of form-stable, fifth-generation gel implants and various tissue reinforcement materials).
Once aesthetic breast problems occur, the surgeon's experience is even more important because these cases can be extremely technically challenging, and they become more difficult with each subsequent surgery.
What can I expect from recovery?
Recovery from a breast revision in Beverly Hills depends on the extent of correction involved, but in general, it is comparable to recuperation from breast augmentation. Dr. Cohen always provides detailed recovery information and post-surgical care instructions at the pre-op appointment. Our staff is also here to answer any questions you may have.
After breast revision, you may be asked to wear a compression garment to help reduce your postoperative swelling and preserve your new breast shape. You will receive prescriptions for pain medications as well as antibiotics to prevent infection. Most patients need to rest for 7-10 days and will need to avoid strenuous exercise for several weeks.
How much does breast revision surgery cost?
Pricing for breast revision will vary from patient to patient, based on the method of revision chosen and on whether any additional treatments are performed at the same time, such as a breast lift or fat transfer. Costs are based on the surgeon's fees, facility fees, anesthesia fees, postoperative garment fees, and others.
It's important that you choose the best doctor for your procedure. Don't let cost be the controlling factor when it comes to breast surgery. Many patients find out the hard way that you get what you pay for and end up having to pursue revision surgeries down the line to correct inferior work. Dr. Cohen is a highly experienced, seasoned plastic surgeon who has a reputation for safety and aesthetic excellence.
Why choose Dr. Cohen for your breast revision in Beverly Hills?
After many years in private practice focusing on aesthetic breast surgery, Dr. Cohen has seen nearly every possible problem and combination of issues in his operating room. As a result, he has the experience and preparation to handle virtually any aesthetic breast problem.
Many of the women who see Dr. Cohen for breast revision in Beverly Hills have already had multiple breast surgeries. Their issues often include stretched or thinned-out skin, as well as internal and external scar tissue – none of which were present at the time of the original surgery.
Prior surgeries also change the anatomy of the breasts and the chest wall. Dr. Cohen will have to fix this in order to achieve an optimal outcome.
For these and many other reasons, corrective breast surgery is far more complex and time-consuming than first-time breast augmentation surgery and can require every tool available such as pocket adjustments, fat grafting, reinforcement materials, and breast lift techniques.